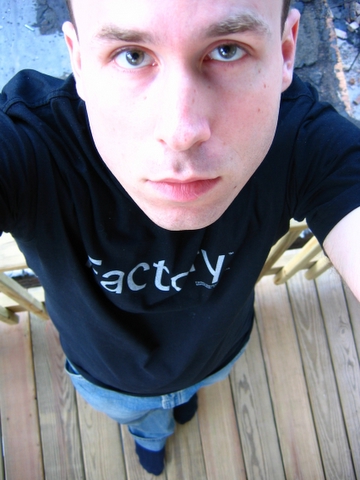 Have you ever walked past someone and felt absolutely certain that otherwise normal-looking person knows how to kickbox? And have you ever then stopped, shook your head and thought, goddam it, why don't I know how to kickbox? If you have, that's the kind of day I'm having, so you can relate.

My name is Marc Heiden. I am twenty-seven years old. I was born in the United States of America, in the city of Chicago, on the north side, next to a lake. I toured the Midwest for the first few years of my life, spending most of my time in industrial suburbs and trailer parks before settling in the big city. I attended a grade school that doesn't exist anymore, St. Ignatius, and then a high school called Loyola Academy, where I occasionally operated under the alias Midget Caesar. Eventually, I drifted off to the University of Illinois at Urbana-Champaign, where I earned degrees in English, History and Sociology and wrote a pair of long, highly-touted documents about Leon Trotsky and Buster Keaton. That was enough school for me.

I've written and performed with the Potted Meat sketch comedy troupe, spun records and improvisational radio theater at WEFT 90.1 FM, and later performed at the ImprovOlympic theater in Chicago. During the period covered by this site, I did media research for a consulting firm, was unemployed for a while, worked as a ghostwriter for a rabbi, and then I taught English to Japanese people in the city of Kyoto, in the Kansai region of Japan. After kicking around Russia for a while, I returned to the USA and landed on the east coast, in Connecticut, back to Chicago and then to Austin, Texas. I'm kind of going through an itinerant phase right now.

This webpage is about my attempts to be reasonable, no matter what the situation. It was begun to provide an outlet for antic energy and hopefully entertain my friends during their work day. Its evolution into the web's foremost repository of hyperbolic statements about monkeys, communism and Manute Bol was unintentional, but it seems to be working out okay. I like girls, Shakespeare, and outer space. I'm not sure that I like the web more than BBSes, but it's all right. I put my first webpage online in 1995, and the sheer amount of text in the archives is really just maniacal. Most of the photos were taken with a Canon Powershot A80, which is an excellent travel camera. The name of this webpage comes from a Jeff Buckley song. So, there's that.

Email me, why don't you? I know a great joke about a scuba diver.