June 19, 2003
I am keeping my cool, which is the most important part. Yesterday's sound and fury notwithstanding, life is good, life is relaxed. I am in demand as a teacher and I am getting better at it. Today was my day off. I had agreed to go to Nijo Castle with a housemate, but the rainy season was in full swing when I finally emerged from my bedroom, and I was looking great in my black and silver basketball shorts, so I decided to stay in and lounge around for most of the day. I'm planning to do most of my tourist-ing in the fall, when the heat and humidity abate. For now, I am content to keep my cool.
In the evening, I did some wandering. After a trip to Tower Records, I came upon the 99 Yen Shop for the first time. It is a glorious place, dramatically unlike its dingy American equivalents (dollar stores). Everything from the local supermarket was there, but for the low cost of 99 yen (roughly 85 cents) instead of 300 or 400 yen. It was quite nice; I had to keep reminding myself that if I could see it, I could afford it, because absolutely everything was only 99 yen. The only real drawback was having to listen to an insane theme song on the ceiling muzak in which a high-pitched voice chanted "99 yen" over and over again. The local supermarket plays only the Beatles (and obscure tracks, too, from lesser-known masterpieces like "Yes, It Is" to their absolute nadir, "Girl", but no solo tracks, as far as I can tell, leaving no possibility of the magic that might occur shopping for cold turkey while listening to "Cold Turkey"). I feel bad about abandoning the supermarket, but that's what I have to do. 99 Yen Shops are not to be fucked with. How can they offer such low prices? With no reason whatsoever, I choose to believe that it's something or other to do with the yakuza.
Remember the good old days of Doritos?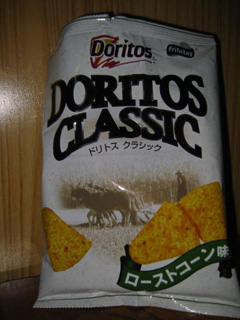 Yes, many people forget about the hard-scrabble, working-class origins of this popular corn chip, but old-timers fondly reminisce about the days when Doritos were the product of one man's dream, one man's hard work, and if he didn't make the trip to the market that week, then everyone would have to do without until he did; when Doritos, like our lives, were simpler, less flashy, the pride of a small-town farm community; and when Doritos, like our lives, didn't have that sketchy Mexican air about them.
What's that? You don't remember those days? Strange, neither do I. In many ways, Japan is not another country as much as it is a parallel universe. Of course, I bought the Classic Doritos for 99 yen and brought them home for dinner. As the package promises, each chip is dusted with the all-natural flavor of the back of a sweaty horse, which is to say that they taste sort of like less greasy Fritos. They're kind of thick, also.
More futuristic landscapes for kids: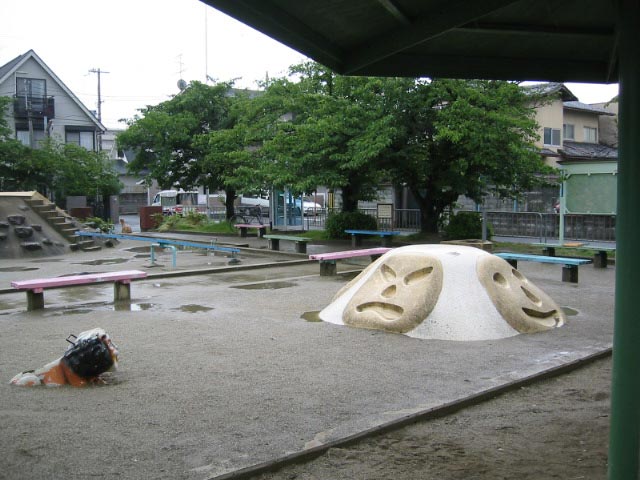 Why is the lion half-buried? Why is the unhappy face turned towards him? What does this mean? Am I the lion? No one tells me anything.