November 26, 2003
What the fuck does this mean?
My ability to organize and understand schema is going to be completely destroyed by this country or it's going to transcend mortal bounds. I'm calling even odds on either outcome. Seriously, what the fuck does that mean? No one can explain it to me.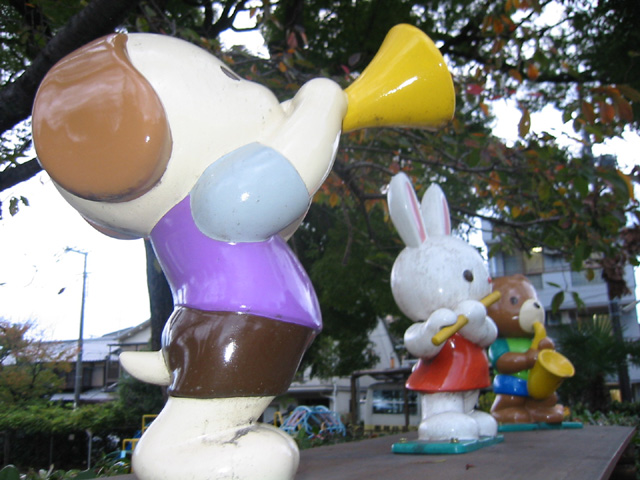 On the plus side, I now know where lives the soul of rock and roll.
Christmas decorations have been up for a month and a half already, but there's nothing going on for Thanksgiving here in Japan. The dual holiday of last weekend -- the Emperor's Birthday on Sunday and Japanese Labor Day on Monday -- gave people a day off from work or school and a chance to reflect upon the real meaning of the occasion, which appears to have been the tremendous importance of descending upon department stores like packs of screaming hyenas and drinking for three days straight, in multiple cities if at all possible. (Happily, a number of my students achieved this goal, proudly announcing that they were blitzed in Osaka, Kobe and other prefectures entirely.) The Japanese love holidays, and they're not picky about where the holidays come from; the bars made the most of Halloween for theme parties and the stores are united in blaring "Do They Know It's Christmas After All?" at people who may or may not in fact be aware that it is Christmas after all. Thanksgiving, however, appears ready to pass without a glimmer. At the very least, I'd think that Japanese restaurants would pick up on it, transpose it into "Eating Day" or something along those lines. People would go for it. I mean, I know there's going to be a ton of rabbits up in here come Easter.
There will be no home-style Thanksgiving for me, as I must remain in Japan through the holidays and long into the next year. I like the food -- my aunt has done a fine job ever since she took the reigns as the family chef -- but the thing I will really miss is the annual Thanksgiving football game with my friends. In many ways, it is the most powerful day of the year. It is a noble, fierce contest wherein the souls of poets are wrapped in the manias of the XFL and placed in the bodies of the Chicago Cardinals. Rosters are drawn up weeks in advance, lyrical epics are written of the QB and WR combos thusly formed, and even the laziest of bastards go into training as far as two weeks in advance of the day. Injuries are no excuse. Separated shoulders and skewed ankles have been disregarded in past years; two years ago, I played with a newly broken finger. Members of the circle are returning from all over the country for the game this year; one guy is even flying in from 1914 to play. I have a fucking fantastic new jersey but alas, I do not have the resources to cross the ocean with it. I am not sure if I will ever regain the trust of certain of my compatriots. I can only hope that redemption will be considered when the full extent of my activities in Japan comes to light.
Forced to make other plans for Thanksgiving, I have done so. I will be gone for two days, during which I cannot disclose my location. They are perhaps the most powerful plans I have ever made.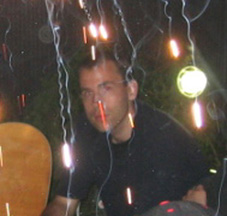 The sky is full of all but stars tonight.