July 28, 2004
Suddenly my house was full of Japanese people barely able to express their fervent wish for cargo shorts from Abercrombie & Fitch. The web-site was confounding to them; when they sent a party to solicit my help, the rest were gathered around the house computer downstairs, mucking about on the investor relations page. Why are these people in my house? I thought. I do not know most of them. Who are they? Which one of them intends to wear these shorts? A representative pressed a scrap of paper into my hands with a mailing address almost a hundred miles away. I set up an account for the leader, who identified herself as Goki, and then found the shorts they wanted: men's cargo shorts, on sale. Their credit card was no good, and they sent me away while they called the bank. Twenty minutes later, I was summoned to finish the transaction and promised watermelon. I thought, well, might as well see this one through, and also watermelon is good. I ordered the shorts and they spent the next five minutes thanking me and bowing to me. Now I am enjoying some watermelon, and it's just another summer day.
Last night I was at the public baths when a yakuza captain walked in, flanked by a few lieutenants. The unaffiliated Japanese people scrambled out of there, but I had only just arrived, and frankly they did not seem bothered by my presence. The captain took a while stripping down while the hastily-naked lieutenants ran around clearing the sit-down shower stalls and setting up a cascade of bowls with warm soapy water. One of them disappeared with my soap and soap-dish, which I had left in the shower stall I had used, as per local custom. "Watashi no desu," I muttered. The bright green dragon on his back sneered in my general direction as he disappeared with my soap.
I was writing that, and the Japanese returned with another emissary. Apparently, in their enthusiasm, they had attempted to repeat what I'd done and had ordered another pair of shorts, which they did not want. Also, Goki was spelling her name differently now. I went downstairs and fixed everything to the usual outsized amount of praise.
So, I was sitting there in the steam room, watching helplessly through the window as the lieutenant disappeared with my soap, and finally the captain walked in. A lieutenant turned on a shower for him, and he sat under the water long enough to get went. Then a lieutenant held open the door of the steam room while another walked in and set a white cushion on the bench next to me. The first lieutentant kept the door open - you're letting all the steam out, idiot - while the second grabbed a bowl and splashed water from the baths on the floor in a trail from where the captain sat to the door of the steam room. The captain stood up and followed the path. When he was inside, the first lieutenant closed the door and stood by his side while the second, joined by a third, continued scooping water out of the baths and splashing it all over the floor. The captain looked at me and I nodded. He nodded back. After less than a minute, he headed outside and sat back down at the shower stall. The three lieutenants went into formation around him. One began barking military-like signals and another began dumping the bowls over the captain's head, one-by-one, while the third refilled them. Several bowls later, they made an abrupt departure and I was alone.
I swear this is all happening in real-time: the Japanese just sent another emissary to ask what kinds of fruit I like, because they intend to buy me a great deal of fruit for what I've done. I still don't understand who these people are, but let me press on with some recent events.
On Father's Day, I was given the following cookie by the grocery store:
I kept it for a few days, and then I went ahead and ate it. Should those who are not fathers be given cookies intended for those who are? Well, the cookie was all right, and as has always been my policy, I apologize for nothing when it comes to cookies.
My friend Andrew did a special lesson - open to any student - on jazz and blues music. Tadashi showed up. He is a deranged little man, the least-successful son in a family of successful businessmen, perhaps because he forms half-cocked plans such as working as a bag-boy at a grocery store subsidiary of a corporation he admires, believing it sent a message to the executive board about his respect for them. I had him in a lesson I did once on language for buying gifts. While the other students decided to buy jewelry, setting up purchasing roleplays nicely, Tadashi gave his hypothetical mother the gift of some groceries. I yelled at him and he acknowledged his mistake. He announced one day that he was getting fat and began chain-smoking to help him lose weight - which he did, although now his clothes are too big. He spends his weekends doing volunteer palm readings at bookstores. One day, I did not feel like teaching a lesson, so I told him to read my palm instead. He gasped with astonishment and said that I had two emotion lines, whereas most people have only one; I had an extremely hot emotion line and an extremely cold one. That figures, I thought. Tadashi also said that I was moving in the right direction to meet my destiny, which should arrive around the time I am 35, and that my 22nd year had been very significant for me. I did nothing when I was 22; I did less that year than any year since perhaps my infancy. But that's what Tadashi said.
Anyway, Andrew had some madlib blues lyrics ready for the students, and here are Tadashi's: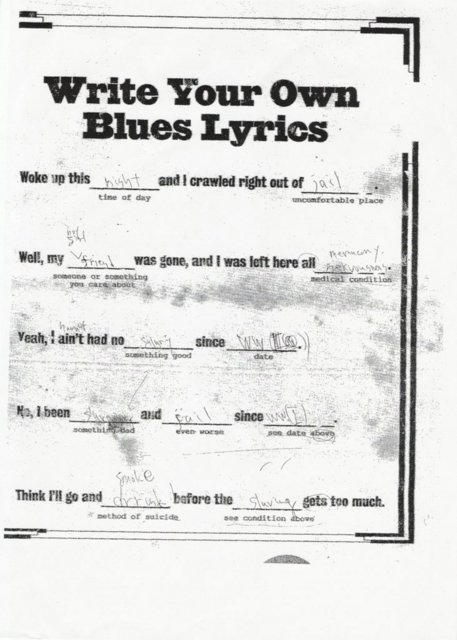 Woke up this (time of day) NIGHT and I crawled right out of (uncomfortable place) JAIL.
Well, my (someone or something you care about) BOYGIRL FRIEND was gone and I was left here all (medical condition) NERVOUSNESS.
Yeah, I ain't had no (something good) SALARY since (date) WW II.
No, I been (something bad) SLAVING and (even worse) JAIL since (see date above) WW I.
Think I'll go and (method of suicide) SMOKE DRRUNK before the (see condition above) SLAVING gets too much.
It was true on the day those lyrics were written and it is true today that the line "Yeah, I ain't had no salary since World War 2" causes me to lose my shit.