July 11, 2006
The world is tense. North Korea has vowed further missile launches and is waiting for an excuse to go to war. South Korea is terrified. The United States is not even trying to pretend it has a plan. Japan is ready to open up its army for the first time since its constitution was written, and you know Japan is aware of what will happen to the army's value once it's out of the original packaging. Suddenly, everyone is looking to China, the original panda sex fiends, to be the voice of reason. Canadians, I ask you: how do you sleep, knowing that I could take care of this whole thing by myself with just one of your passports? For the infinitesimal price of a single Canadian passport, I could go to Pyongyang and bring the world back from the brink of nuclear annihilation without a singe bullet. For the slightly less infinitesimal price of a second Canadian passport, I could have a friend to talk to on the plane. Canadians, wouldn't you like to look in the mirror each morning and say, "I did my part for world peace, eh." Do you seriously think that, in the event of war, you can just go camp out in the Northern Territories until the fighting is over? Have none of you played Risk? Kim Jong Il knows that you don't get the five bonus armies until you've got the entire continent. Kim also knows that no amount of his verbal bluster can prevent my awesome rhetorical power from reducing him to a pathetic, whimpering mass of wrinkled flesh in mere seconds. Kim, we both know that sooner or later one of these Canadians is going to cave, and then I am going to make you cry.
IF THESE HOUSEHOLD OBJECTS COULD TALK, VOL. 1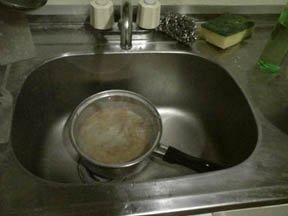 I'm so tired.
I've been doing it all by myself for so long.
I don't know how much more I can give.
Don't pretend you didn't forget you were cooking something.
Only the sound of that weird cheese sauce splattering on the walls made you remember.
Readers who would like to express a preference as to whether the drinking glass or the toaster oven will go next are welcomed to do so. All of them will have their say, eventually.
(For Syd.)